Homepage of Bando Miyabi
---
Dojo-ji
Last update: 1/Jan. 1997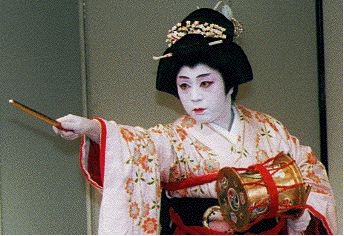 This Dance was created about 200 years ago, based on the old Japanese story "Anchin-Kiyohime".
On the day of the cerebration of rebuilded bell of Dojo-Ji temple, a beautiful Japanese dancer (Shirabyoshi" came to the temple, and she represented a merverous dance. But she was a goust of "Kiyohime" princess, who had been devided with her lover "Anchin" in very old days by a mircle power of the Bell of Dojo-Ji temple. During dancing, she remembers the sad memory and the gohst finally conqours the Bell.
It became a popular theme of Kabuki dancing, and was played repeatedly. In this dance, the actress is needed to show almost of the fine technique of the way of Japanese dancing, hand gessture dance, towel dance, hat dance, waist drum dance, tambourine dance.
---
This stage was held on 8/Dec, 1996 at Iino Hall, Tokyo, Japan as one of the part of "Bando Kai" charity recital, organized by Bando Mitsugoro, the president of our group. This was not a full costumed, only to show the way of dancing with a simple Japanese Kimono, nakid style dance.
---
Casts:
Shirabyoushi (Kiyohime Princess) : Bando Miyabi (Masako Memezawa)
---
If you have any comments or questions, please E-Mail to:
Masako Memezawa: masako-memezawa@nna.so-net.or.jp
---
Bando Miyabi's Homepage
Return to Memezawa's Homepage
| Miyabi Dental Clinic | Memezawa Medical Clinic |
---
This Page is resistored to Yahoo! Japan
This page was created by use of Netscape Navigator Gold 3.0
This Page exists on the server of So-net
---
Copyright (C) Hajime & Masako Memezawa, 1996